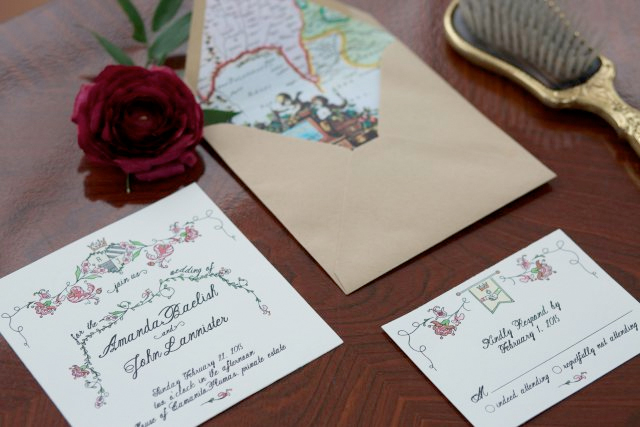 Game of Thrones and a Wedding Dog
Once upon a time there was a show that inspired many weddings and bridal shoots, and I had the pleasure of providing the wedding stationery for one of them. At that time using the dark, rich colors wasn't something I was accustomed to—but I loved the outcome. So why would I not blog about it? In fact, I'll make it my first post.
Why a blog, you ask? Because I need to add one more layer of crazy to my life. (side note: why is there not a sarcasm font?) I feel like there's always stuff I want to share, but I hate to get overly wordy on the socials. So here I am. I've been going through some old photos, contemplating this blog thing. It seemed appropriate that these gorgeous and moody "Game of Thrones" shots would kick off this new endeavor in this odd year we're having. (2020 needs to go away, am I right?) Plus, I mean look at this bride and groom… they're gorgeous.
I loved the aesthetic of this shoot. The deep floral colors and the contrast of the beautiful, vintage furnishings with the outdoors checked all my boxes. And hellooooo, who doesn't love a wedding Yorkie?? OMG I can't get enough of this little guy. And now that you've found my blog, if you decide to be a frequent visitor, you'll see that I'm a HYUUUGE sucker for dogs. Give me allllll the dogs.
For those of you who really know me, you know this blog isn't my first rodeo. I used to write a humor blog. And if I get to know you I might let you know what it is. It was cathartic and I'm a potty mouth. So I don't share it with many people. I'm going to do my best to keep this blog G-rated and 100% professional. But I can't promise anything. Especially in this ridiculous year. (In my other blog there would have been a salty word in that last sentence.)
Anyway I aspire for this blog to be inspiring and informative, if not slightly entertaining. So feel free to drop by and visit often. Ok, who are we kidding? Not too often… I'm certain I won't get around to posting nearly as often as I hope to.
xoxo lynn
On a side note, this was so long ago I can't find the credits. Sadly I remember my vendors, but all the beautiful weddings run together. My apologies if you worked on this lovely day. Please drop me a message and I would be very happy to add your credits to this post.