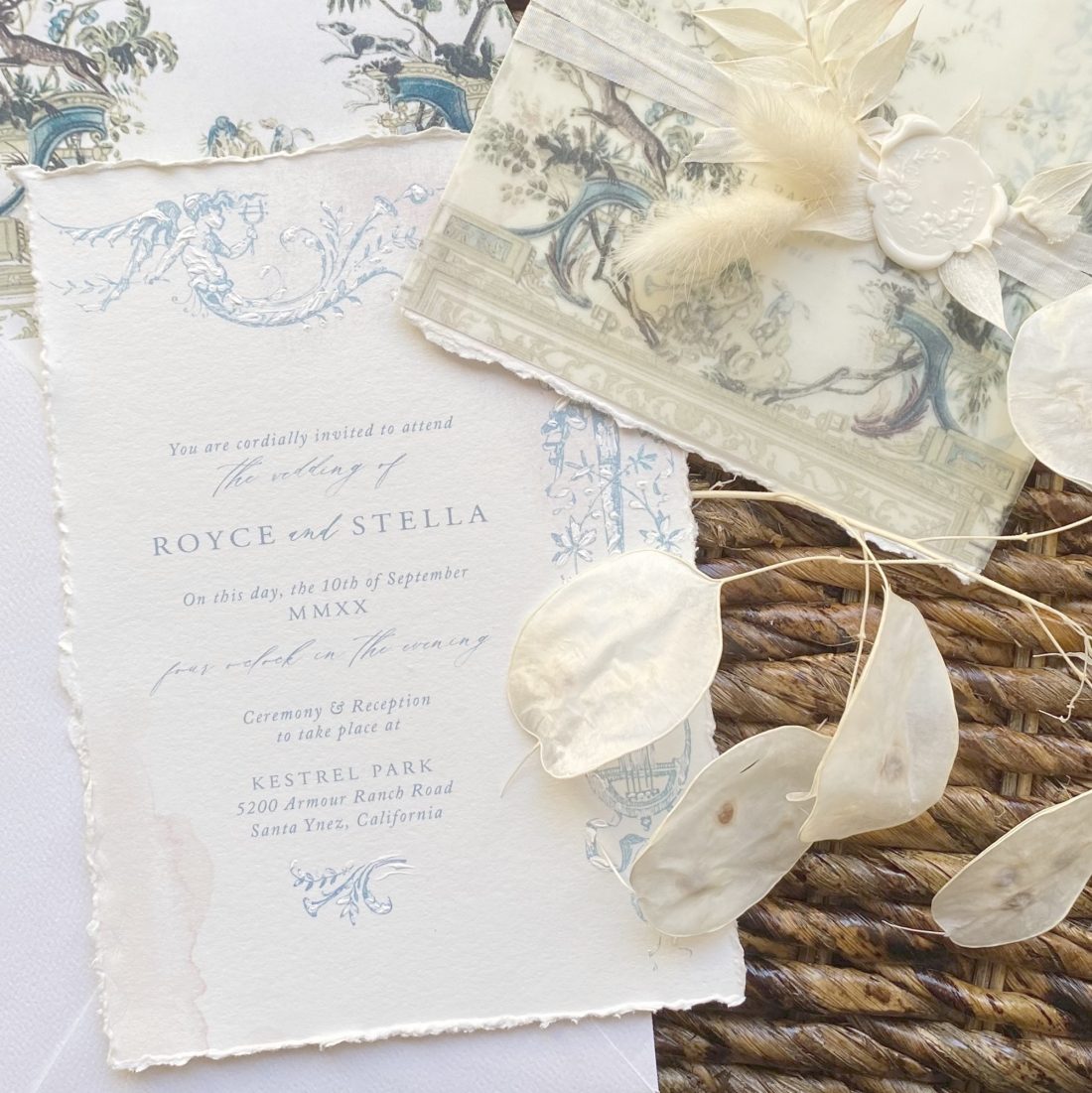 Your Wedding Stationery Timeline
We all know that orchestrating a wedding can become overwhelming. And I get asked all the time, "When do you mail out wedding invitations?" So the key to keeping the stress under control is to create a wedding stationery timeline plan and stay with it. If you plan to work with a custom stationery boutique your timeline will be a little different that if you plan to buy "off the shelf." Though we're a Southern California based wedding stationer, we work with clients internationally and are happy to work with you wherever you may be.
Since we are a custom boutique wedding stationer, our suggested timeline may look a little different from the design and production standpoint vs. that of an off-the-shelf vendor. For your custom stationery needs, a simple timeline might look something like this:
book your stationer twelve months before the wedding
mail out your save the date cards six to nine months before the wedding for a local wedding and eight to ten months for a destination wedding
for a local wedding mail your invitations six to eight weeks before the wedding
for a destination wedding mail your invitations three months before the wedding
check with your caterer or wedding planner for the RSVP card deadline, but generally two to four weeks before the wedding is a good target
Why book a stationer a year in advance? The short answer is we can only take so many clients in any given time, and you'll want to reserve your calendar slot with your favorite. It takes a little while to get to know you and your vision and design your perfect stationery suite. Perfection can't be rushed. 😉 So you'll want to start looking at, and narrowing your list of top picks sooner to be sure you're signing a contract and putting your deposit down a year before… so you don't miss out. And we're glad to help you plan when to mail out your wedding invitations.
By booking your stationer a year in advance, planning to mail your save the date cards out six to nine months before the wedding gives you a bit of time to work on the perfect design for your cards—that will then coordinate seamlessly with your invitation suite. We do have a few semi-custom designs to choose from if the luxury of time is not on your side. This also allows us some flexibility in fitting clients into our schedule if a year in advance isn't possible for you.
Whether you're doing a basic semi-custom wedding invitation suite or a fully custom package, you'll want to create a timeline that allows plenty of proofing and production time so there's no worry about deadlines. When I work with clients my goal is to make the process fun and free of stress. If you'd like to get in touch about your wedding or event stationery needs, feel free to reach out here.
xoxo lynn