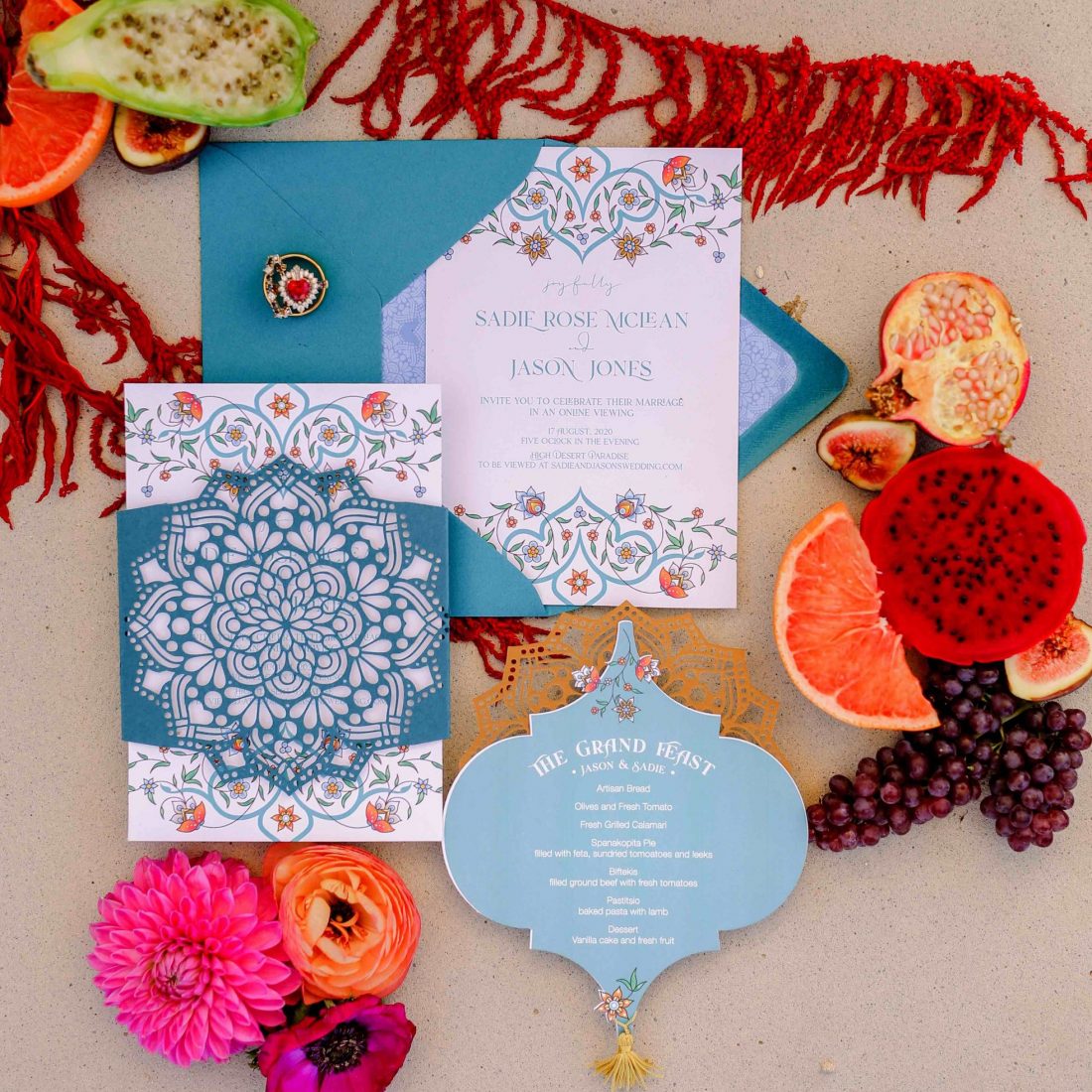 Joshua Tree Wedding Invitations with a Moroccan Flair Featured on 100 Layer Cake
It's always fun making wedding invitation magic with a great team of vendors. The color palette and theme for this gorgeous editorial inspired a graceful frame of delicate florals that were reminiscent of the frescoes at the Alhambra. Years ago when I visited Spain's Moorish paradise, I was so taken by the incredible artisan detail, I knew there would be a time that its influence would find it's way into my design work. I was thrilled to have this opportunity to create this beautiful stationery for this stunning Joshua Tree wedding.
The striking jewel-toned palette was outside my usually-requested realm, but what a fun time to get to apply such bold visuals to this wedding stationery suite. The rich colors were a natural with bold lines, so I chose to wrap the suite in a band of delicate cutwork that was inspired by the insanely cool carvings that cover the walls and ceilings of the Moorish architectural masterpiece.
The delicate florals on the invitation cards were a complement to the bold cutwork that created the powerful statement piece. But the invitation suite was only the prelude for this stunning wedding editorial published in 100 Layer Cake.
Every detail for this Joshua Tree wedding was a beautiful nod to the Moorish influence of the day, from the table scape to the delicate tapestry backdrop surrounded by the richly-colored balloons. I think my favorite detail (aside from the invitations… *wink*) was the coolest detail on the cake—reminiscent of a fresco in progress. The colors were natural and gorgeous and it didn't look overly worked. It was dessert perfection for a desert wedding in paradise.
Click through to the editorial at 100 Layer Cake and check out all the photos. I can't get enough of the bride's tulle-dream dress in peach with the fresh (and to-die-for) deep blue shoes.
So many details to enjoy!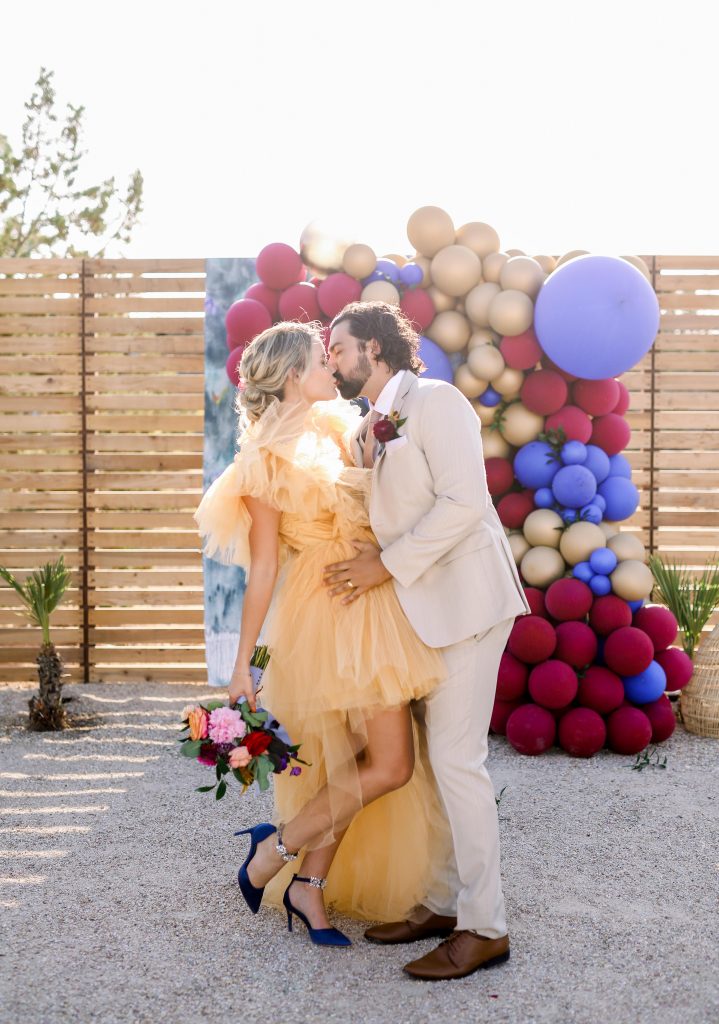 Planning and Design: Aliciac Creative | Photographer: Playful Soul Photography | Venue: High Desert Paradise | Rentals: Archive Rentals | Invitation suite and menus: The Bridal Press | Florist: Chandler Flower House | Plants: The Crafty Stem | Tux: Friar Tux | Cake: Desert Villa Bakery | Candy & Macaroons: Really Cute Sweets | Balloon Arch: Social Pop | Photo Booth: Social Scenes Photobooth | Hair and Makeup: Kathyhuyn Hartistry | Tapestry: Ruth Weatherford | Ring: Gemma Stone Studio