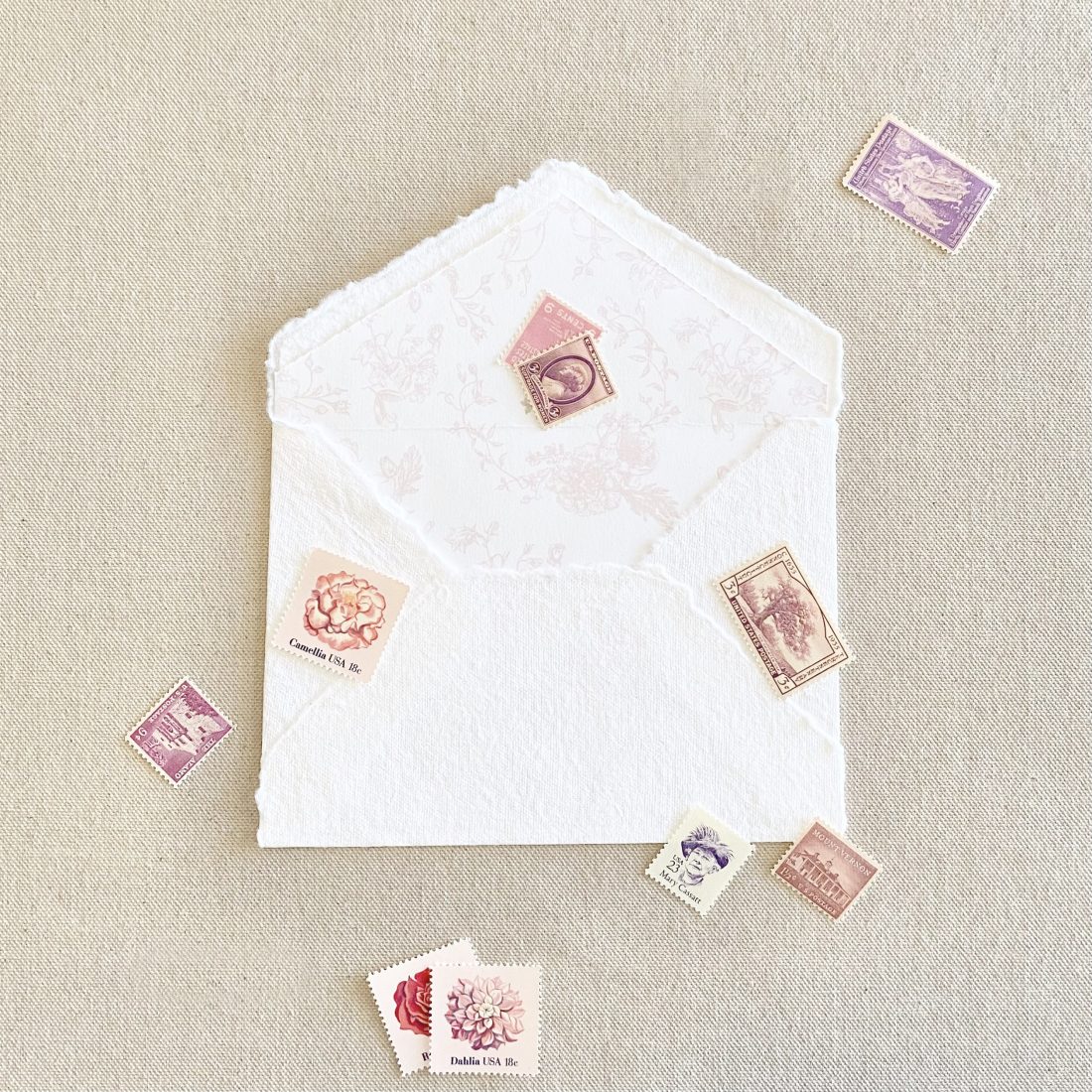 Planning your wedding stationery
You've set the date! Now what? Wedding stationery can be a little overwhelming, so let's talk.
Contract with your wedding stationery designer 12+ months before the wedding.
As with most wedding vendors, I accept only a limited number of clients a year, and my calendar fills quickly. So the sooner you're able to sign a contract, the sooner you'll have peace of mind that you'll be working with your first choice vendors.
Your wedding stationery is the first thing your guests will see. It's going to set the tone for your wedding day. An invitation package that shows your personality as a couple and provides a peek into the expectations of the day creates excitement and anticipation.
Start save the date card process 8-10 months out and mail 6-8 months before the wedding.
Your guests will want to reserve your big day on their calendars, so a save the date card is important. If you contract with the same designer doing your invitations, your save the date card can be created alongside your invitations and coordinate for a professional and cohesive feel. Your save the date cards can be as simple as a postcard or as elaborate as your invitation suite.
Start the invitation process 4-6 months out and mail 2-3 months before the wedding.
The day your wedding invitation arrives in your guests' mailboxes, they'll know not only when they'll need to respond, but exactly what kind of event they're looking forward to. With one look your invitation tells them if they're looking forward to a casual event or a formal soiree.
Depending on your budget you'll need to decide what printing process you'd like use and on what kind of paper. So let's break that down.
Types of printing
I'm going to talk about the most popular methods I use at The Bridal Press. However if you would like more info on other processes you can do a deeper dive into it on this page. Each of the processes has it's own feel and creates it's own first impression for your guests.
Working from budget to luxe, the least expensive way to print your invitation is on a digital press. This is also known as flat printing because the image is flat on the paper. The benefit of digital is that you're able to print full color at a low cost.
A step up from digital is letterpress, which uses a relief plate to press the ink into the surface of the paper to create a tactile impression. The plates can also be used without ink to create a "blind impression." I use this a lot in conjunction with inked plates to create a varied look.
Luxe indeed, foil gives the impression that your wedding will be one for the books. There are two types of foil. Cold foil is slightly less costly but has more limitations on types of paper. Whereas foil stamp is offered on more of a variety of papers.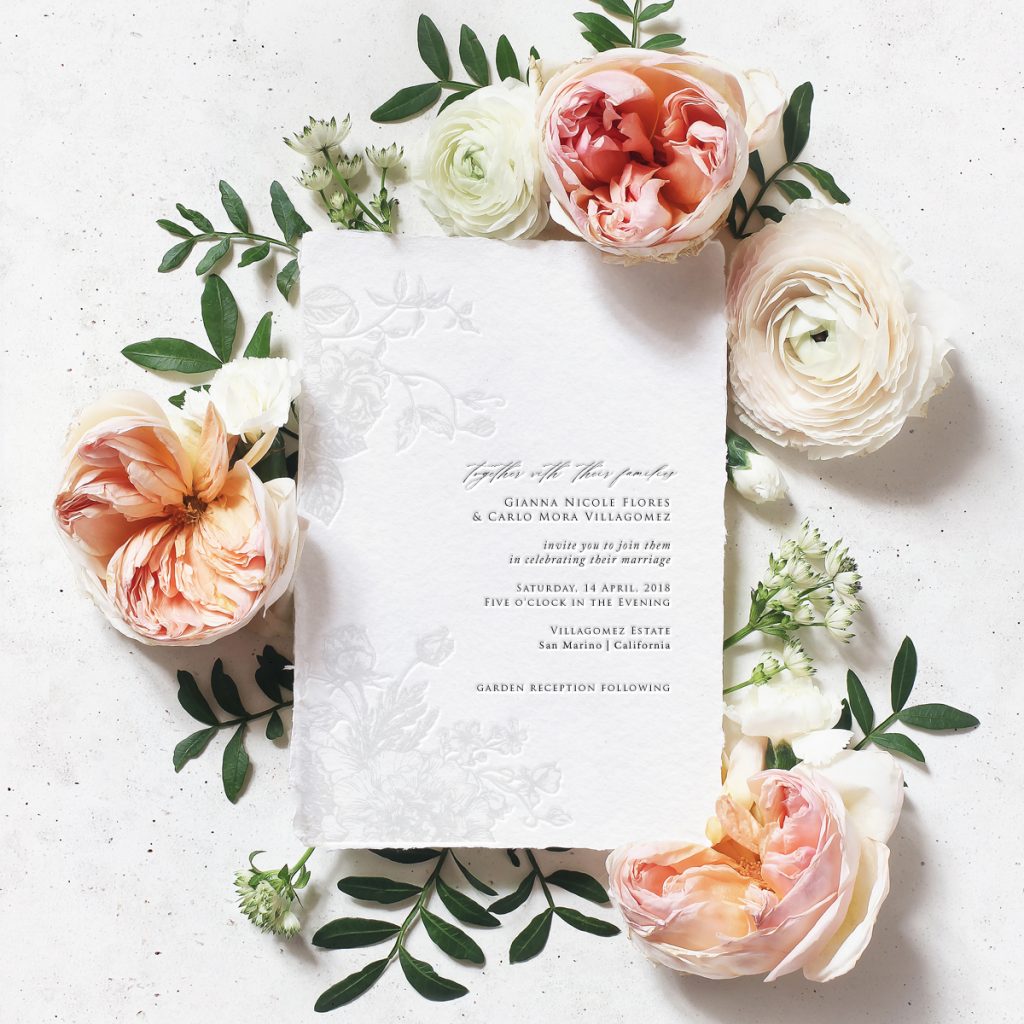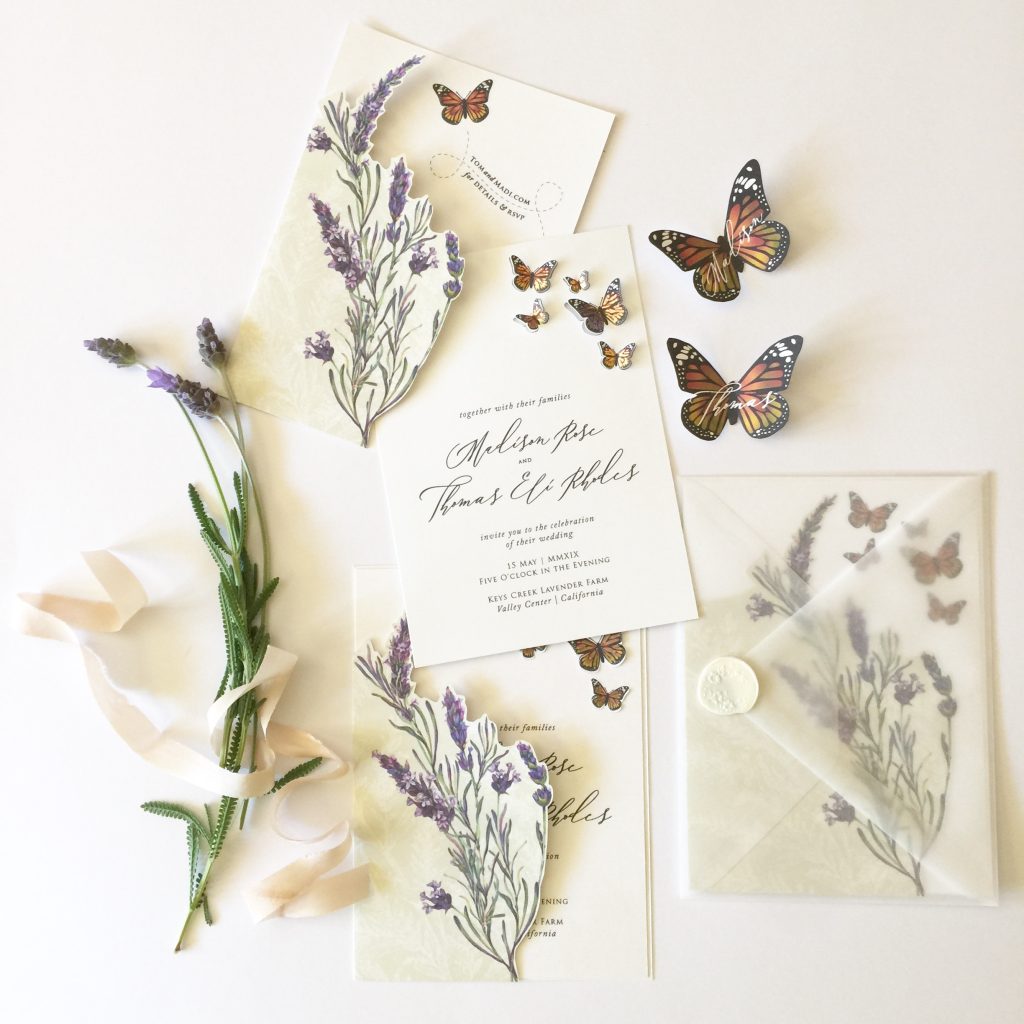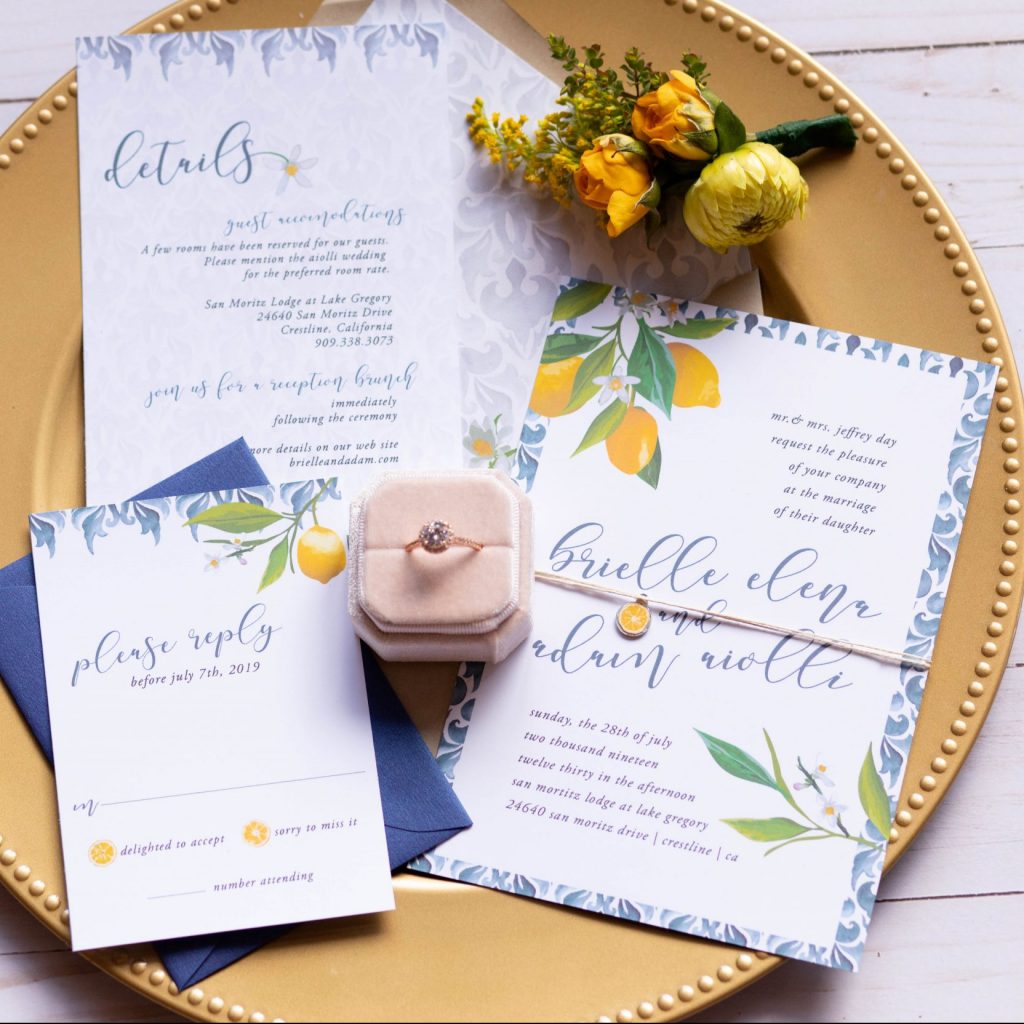 Types of paper
So let's talk paper. There are endless types—they all have their own feel, and along with your printing method, convey their own style image. If you're feeling more adventurous (design- and budget-wise) and want a truly unique look, I'm happy to talk to you about some really cool specialty papers if you'd like to connect using the contact form. But at the moment, I'm only going to talk about the more popular types I offer. And for clarity, they're in order of budget to splurge.
Recycled stock comes in a wide variety of weights, textures, finishes and colors. It's the best option if you're reserving your budget for that adorable little bar cart at the reception. The wide selection of these papers and reasonable cost make them a popular choice. They're the most commonly used papers when using digital or cold foil printing.
100% cotton stock is the most popular choice to use when letterpress is your preference. It's a very pillowy soft paper and takes a foil stamp or letterpress impression beautifully. But that being said, it's a great choice with digital printing as well. It's also available in double or even (if your budget permits) triple thick if you're looking to make a truly luxe statement.
Seeded paper is an option for a fun and earthy choice, when budget is less of a concern. It's pillowy thick and highly textured, embedded with seeds—from wildflowers and catnip to veggies or herbs—your choice. Since it's thick and highly textured it looks amazing with a letterpress or foil stamp impression. However with flat printing, it offers a fun boho vibe. 
Handmade, deckle edge is the grand dame of paper—the luxe choice not for the budgetary faint of heart. But a guest who gets this slice of paper heaven in the mail knows the wedding is going to be a day like no other—truly a fairytale event. This paper's best friend is letterpress or foil stamp, taking an impression with a breathtaking texture.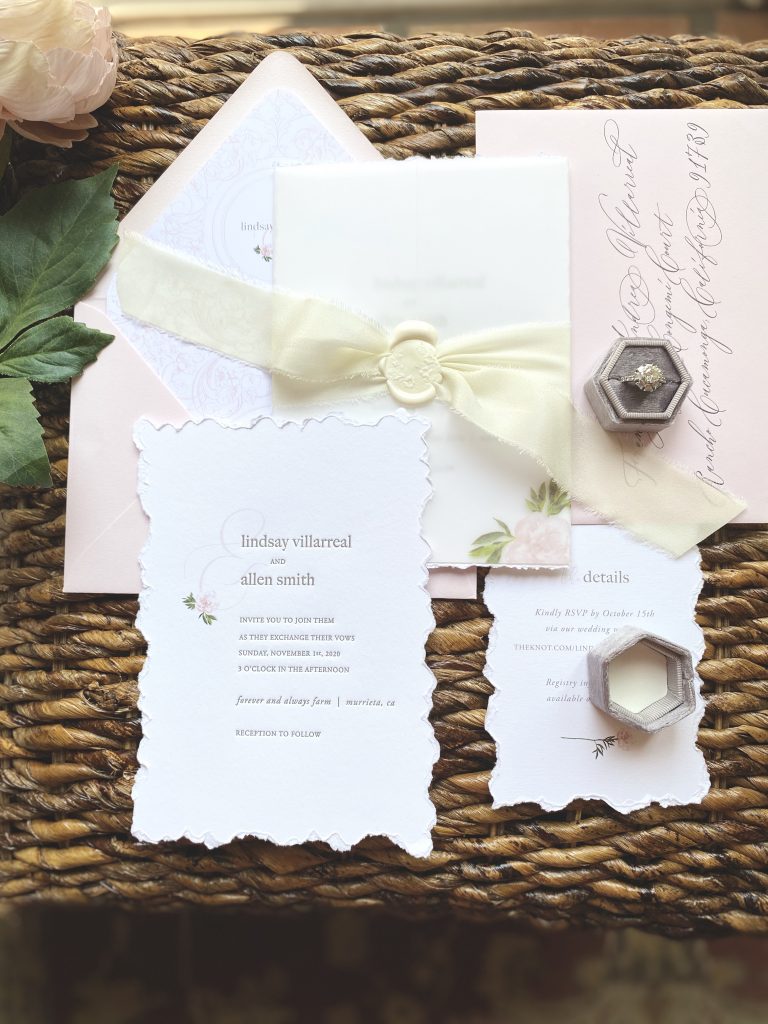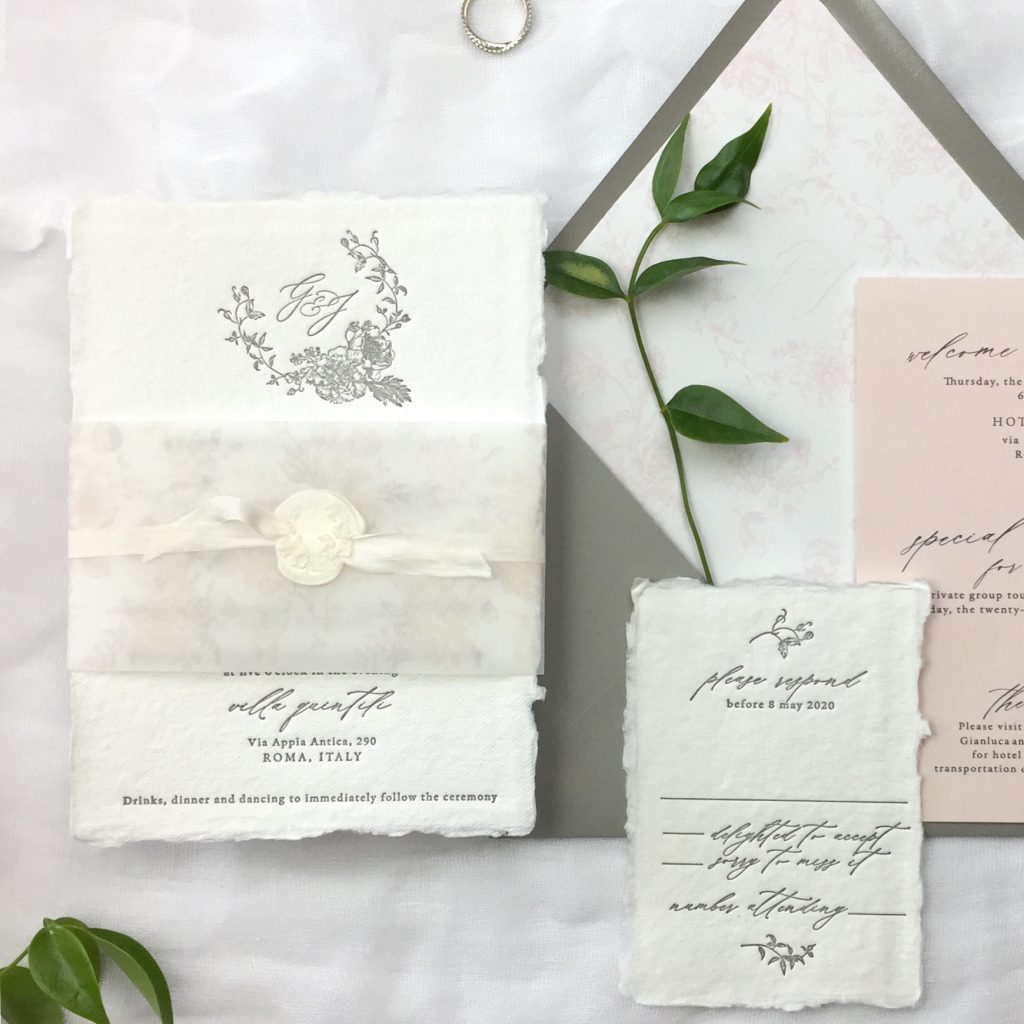 Dressing up your wedding stationery with details
Your wedding stationery suite consists of an invitation and usually a combination of a details card, RSVP, map, rehearsal invitation and/or others, and are rarely just a stack of cards in an envelope. Some come in jackets or vellum wraps, or are tied up with a bow and a wax seal in an envelope that may or may not have a printed liner. These are the details that give your suite the added wow-factor. And the choices are seemingly endless.
Some couples decide to use a more budget friendly paper and printing process with a semi-custom design and go all out with vellum wraps and wax seals with the envelope liner. This is actually a great way to make the biggest impact with a smaller budget. Check out the semi-custom designs here.
I'm always happy to talk to you about how best to plan your budget for the impact you're looking for. If you'd like to connect, reach out using the contact form.
Start day-of stationery 3 months before the wedding.
Day-of stationery is a great way to carry through the vibe your invitations started. From a beautiful program to table numbers, place cards and signs, your day-of paper goods will continue your look throughout your wedding day.
It can feel like you're being buried in details. But by keeping track of it all on your calendar or planner and knowing when you should be taking care each detail, you can reduce your stress. Let me know if there is anything I can do to help you out in your wedding stationery planning.